"Waiting On" Wednesday is a weekly post hosted by Breaking the Spine, that discusses upcoming releases that we are super excited about!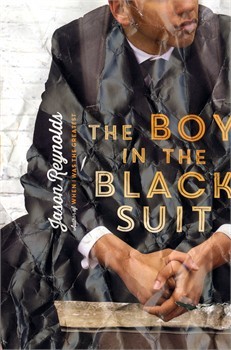 This week's selection is from the Simon and Schuster Atheneum catalog.
The Boy in the Black Suit
Jason Reynolds, Author (Cover by Ugla Hauksdóttir)

ISBN-13:  9781442459519
On Sale:   08/16/16
A 2016 Coretta Scott King Author Honor book.
Just when seventeen-year-old Matt thinks he can't handle one more piece of terrible news, he meets a girl who's dealt with a lot more—and who just might be able to clue him in on how to rise up when life keeps knocking him down—in this "vivid, satisfying, and ultimately upbeat tale of grief, redemption, and grace" (Kirkus Reviews) from the Coretta Scott King – John Steptoe Award–winning author of When I Was the Greatest.
Matt wears a black suit every day. No, not because his mom died—although she did, and it sucks. But he wears the suit for his gig at the local funeral home, which pays way better than the Cluck Bucket, and he needs the income since his dad can't handle the bills (or anything, really) on his own. So while Dad's snagging bottles of whiskey, Matt's snagging fifteen bucks an hour. Not bad. But everything else? Not good. Then Matt meets Lovey. Crazy name, and she's been through more crazy stuff than he can imagine. Yet Lovey never cries. She's tough. Really tough. Tough in the way Matt wishes he could be. Which is maybe why he's drawn to her, and definitely why he can't seem to shake her. Because there's nothing more hopeful than finding a person who understands your loneliness—and who can maybe even help take it away.
Jason Reynolds is crazy. About stories. After earning a BA in English from The University of Maryland, College Park, he moved to Brooklyn, New York, where you can often find him walking the four blocks from the train to his apartment talking to himself. Well, not really talking to himself, but just repeating character names and plot lines he thought of on the train, over and over again, because he's afraid he'll forget it all before he gets home. Jason is the author of critically acclaimed When I Was the Greatest, for which he was the recipient of the Coretta Scott King/John Steptoe Award for New Talent; the Coretta Scott King Honor books Boy in the Black Suit and All American Boys (cowritten with Brendan Kiely); and As Brave as You, his middle grade debut. You can find his ramblings at JasonWritesBooks.com.
PS: Have you heard of this book? What do you think? What books are you anxiously awaiting?